WE LOVE YOU WHITNEY...BE STRONG AND PROSPER IN 2006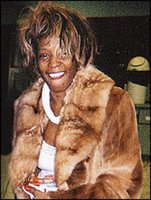 Aw, some well-meaning person has
started a petition
for Whitney Houston. As to exactly what/who they're petitioning is debatable, but the fan support isn't. They've already received a whopping 188 signatures in the six weeks since it was created.
There have lots of kind words, prayers, and advice posted from around the world. So far my favorite is:
"At times use a mixture of:Olive oil, lime juice & honey combined and mixedfor the voice. You'll be surprised. Also drinka lot of garlic tea. It is also very good for thevoice."
I somehow think this person isn't clear on what precisely her problem is these days.
C'mon people. Go support Whitney. I know together we can bring those numbers up to 200!