#051129254
That's my LAPD stolen vehicle report number.
My family had the car for 17 years; I had it for the last nine. I learned to drive in that car. I did my first job -- delivering videos for a rental store (mostly pornos) -- in it. I drove to Canada with a girlfriend in that car. I discovered music on that crappy factory stereo. I got into my only accident to date when I was 17; in passenger seat: Rebecca Romijn (pre-Stamos). And yes, I lost my virginity in that car (not with Rebecca Romijn, however).
I'm not a car person. Cars don't really turn me on. I realize I live in a town and work in an industry where one is judged by the symbol on one's key ring, and I have been embarrassed in certain occasions to pull up in front of a fancy restaurant for a meeting where the person I'm meeting is waiting out front and my brakes squeal as I stop and my door crunches as I emerge. And sure, I've often thought it would be nice to have air conditioning or power windows or a stereo that had more than one functioning speaker, but the car worked, and there was no reason for me not to drive it. I always assumed one day it would simply stop working and it would cost too much to fix and then I'd have to put her down, after a tearful ceremony. But if I've learned one thing it's that you never get the endings you envision. And indeed I was robbed of that ending this morning, sometime between 2am and 10:30am.
I keep trying to be funny about it. Joking that the thief is going to be very nervous that the check engine light is always on (there's a short) and that he'll be quite confused by the Tori Amos tape in the glove box (old; very old). It's also due for a smog check and an oil change and is out of gas, so, you know, he'll immediately have to put a few bucks into the thing, so already it's a financial hardship, this car. A real ray of hope is that the tags just expired, so the thief could be pulled over for no reason. And there isn't much in the car, other than some roller blades size 14, an umbrella, a faded 49ers hat, a Kangol, a red Ben Davis shirt, a skateboard, a Frisbee, a bike rack, a 1995 Thomas Guide, and an old tennis racket. I never even put the earthquake kit in the trunk that I'd been meaning to buy, so joke's on him.
I drove around a bit today looking. I knew I wasn't going to find it, but it felt good just to be able to pretend to be doing something.
I enjoy
things
, but I'm not a possession freak. But there's no way to spin it other than: the car was mine. I loved it and took care of it. And some evil fucking asshole took it from me and that fucking sucks and I hate him forever. And that's kinda all the lesson that I can extract from it right now. Some People Are Dicks.
So hey, if you live in the East part of Los Angeles, here's what it looks like: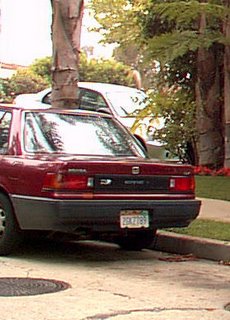 If you happen to be driving and you see a faded 1988 Burgundy Honda Civic with no front emblem and Rilo Kiley and "Save Buttleman" bumper stickers on the back, say hi.
And then call the police.
You know, at the end of the day, I'm tempted to wonder why on a street filled with newer, shinier, more expensive cars, they took mine. But I know the answer. It is a very, very good car. And I'll miss it a whole bunch.