Day 4: We're No Supermen
Day 4 was actually really fun. We didn't have the craziness of the Showrunners Confab of yesterday at the Disney lot, but because of that, we were able to interact a bit more. I also think our poor out-of-shape writers bodies are actually acclimating a bit to the walking. Our friends Andy and Julie came down to support us, neither of them guild members, as did cast members from
Scrubs
-- which then drew a reporter from
Entertainment Tonight
like a tall bald black hummingbird to sugar water. CAA brought food, as did others, including a man trying to publicize his singer-daughter. I spent the day walking with the awesome writers from the upcoming
Eli Stone
,
Lost
, and
Scrubs
. The kitchen and bathroom furnishing store across the street opened their bathrooms to the strikers, and people honked almost non-stop the entire day. The weather was cool and the coffee was flowing. We even had a Jay Leno drive-by, though the un-smogged jalopy from the past he was driving caused us all to cough horribly as we cheered his super-chinned-gregariousness.
Later I had drinks with my agent, who sort of both depressed me with the major agencies' confusion and impotence over the whole thing, and also teased me with the notion that maybe something is afoot... Or maybe I just wanted to hear that.
Tomorrow we're all being diverted to the Fox lot for a big all-WGA rally at 10am. Wish us luck.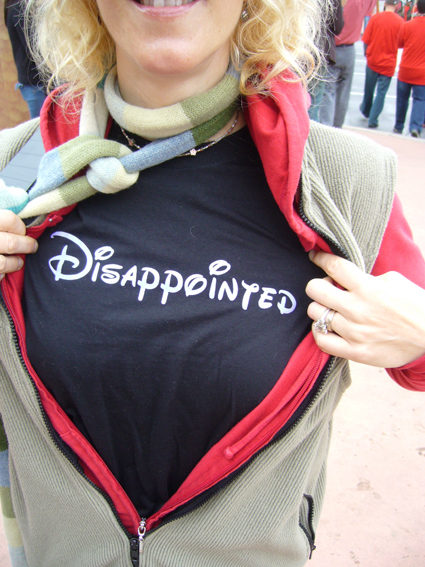 Eli Stone
's Moira Walley-Beckett, who, despite what one of the blogs wrote, is in fact not Felicity Huffman. She is displaying a cool faux Disney shirt someone had printed up.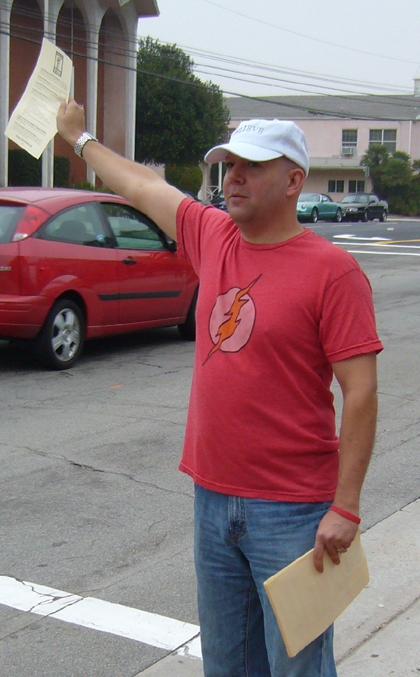 The bad-ass Marc Guggenheim, also of
Eli Stone
. He began the day very reticent to hand out flyers to passing motorists, but within an hour was climbing on passing semis and forcing them to take the damn paper. Flash! Ah-aah!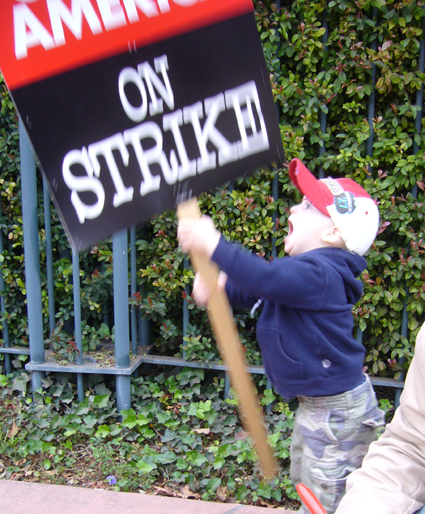 Wendy Mericle of
Eli Stone
's little boy learned he was able to make trucks actually make noise by waving the giant sign. Best thing ever!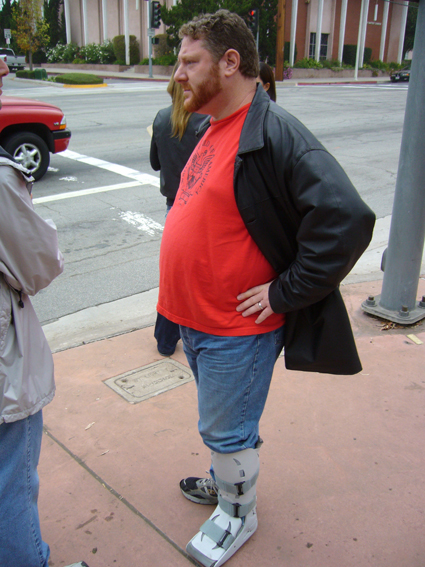 The tireless Michael Tabb, broken leg and everything. He's a pitbull on the megaphone.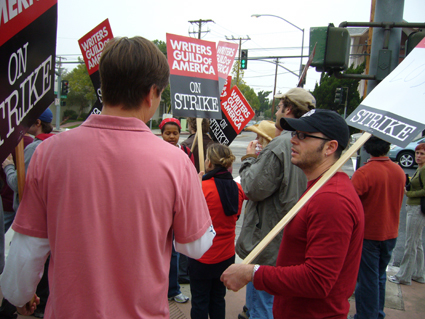 Bill. Damon. Sacrificing big time.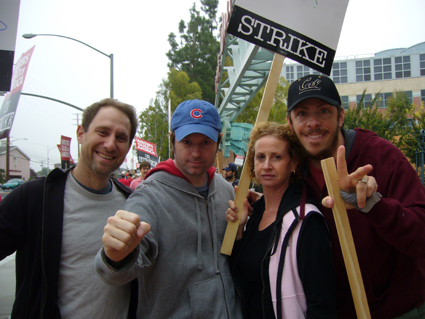 AK and Julie showing up, dealing with us assholes.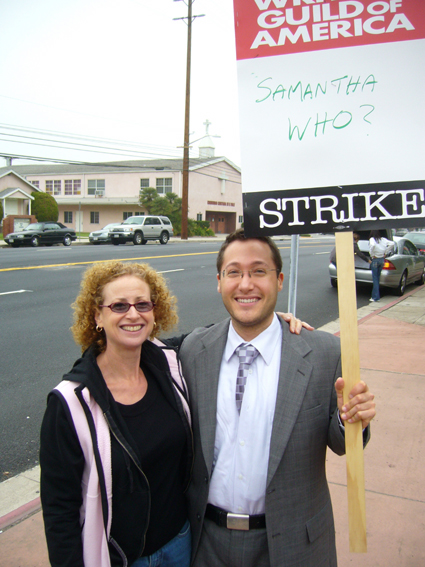 Julie with a CAA agent. Don't know why CAA makes them do the tie tuck...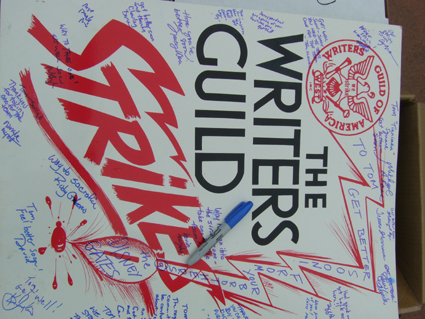 We all signed a placard for the
Talk Show With Spike Feresten
head writer who was hit by a car on the front lines.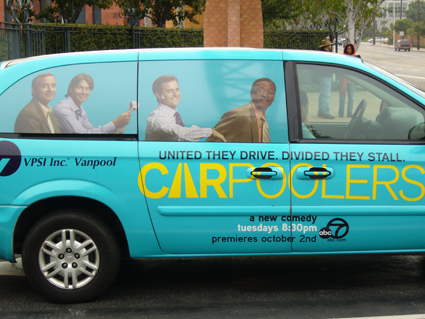 Is
Cavemen
on the other side?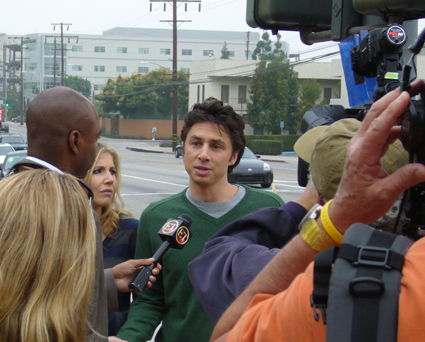 Zach Braff and Sarah Chalke talking to
ET
.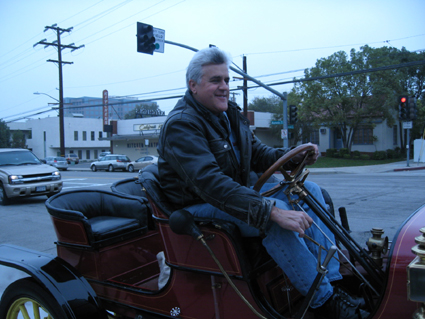 Leno. Visiting from the past. (
photo credit: the fetching Frank Stokes
)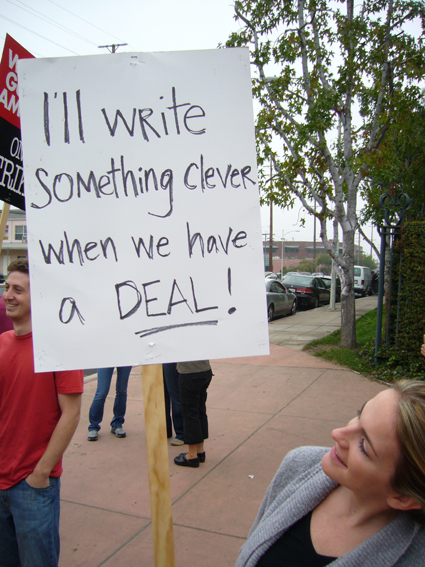 Pencils down!