I U Read This Fuck You.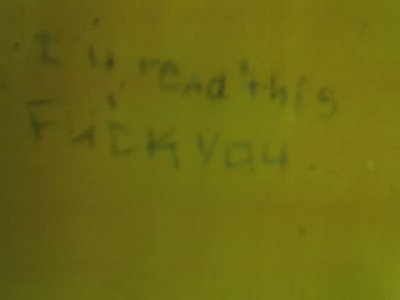 11th Floor Bathroom. Los Angeles Criminal Courthouse.
I have jury duty. That's what I get for voting. The worst President in history, and jury duty.
After a day of sitting around, reading, staring into space, listening to my iPod, and walking for blocks to find lunch in the I-don't-care-what-the-realtors-or-alt-weeklies-say, it-ain't-"hip"-until-you-have-some-fucking-food-for-sale crater that is Downtown Los Angeles, I'm close to being on a case.
It's a long one, 15-days, they think. And after all the people made their excuses to the judge about why it would be too much of a hardship for them to serve (I didn't think "It's staffing season and I really should be available for meetings, plus I have a script due in a month and lots of TiVo to watch" would have received any sympathy), I'm perilously close to being an alternate or actually sitting on the jury. And I'm sure after the lawyers use their random dismissals tomorrow, I will be selected. I just have a feeling.
Unless, that is, I can figure out a clever way to get myself excused. I'm too much of a pussy to lie under oath and say something like, "I hate Mexicans" or "I'm highly claustrophic" (the latter of which is an actual excuse used to success at a recent trial a friend served on; I bet the first would just get you held in contempt). I could say something about how I'm still mad at all criminals because of my Honda being stolen a few months ago. But I'm contemplating something a little more subtle, like visibly smiling and laughing whenever the cute female prosecutor speaks and frowning and shaking my head whenever the defense attorney speaks. (Ooh, I should tell her during my questioning that she "puts the 'cute' in 'prosecutor'!" That would get me dismissed for sure. Or, a date!)
But of course there is a part of me that thinks serving on a jury would be interesting. I think if that happens, I'll campaign to be the lead juror, and then sway opinions just based on my whims! Or else I'll just whine whenever I'm not asleep, and occasionally entertain paranoid fantasies in which the defendant somehow gets the jury list and years after the trial gets out and hunts us down one by one.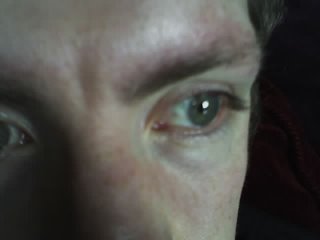 The glassy, tired eye of justice.
On a more alcoholic note, I found a second bar in my neighborhood! (Third if you count the bowling alley.) It's called The Wild Hare and they have great beer and food and lots of booths and a fantastic juke box and BINGO on Tuesday nights. I'm just mad nobody told me about it. How dare you?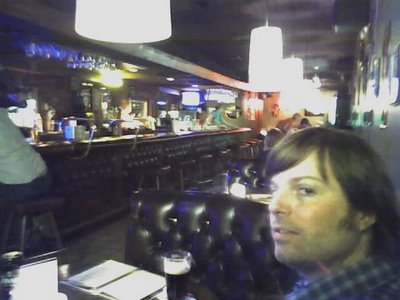 Frank at The Wild Hare