Ted Kennedy Drives The Mary Jo Kopechne Of My Trust Into Chappaquiddick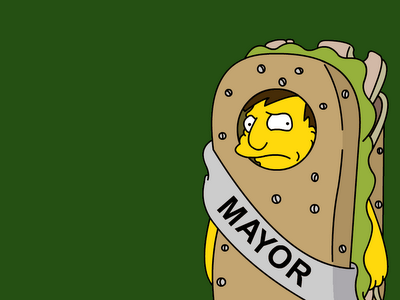 Somehow I'm on Ted Kennedy's mailing list, and his missives are usually the expected variety of Things I Sorta Care About, all topped with his little red faced photo. I read and delete. No big deal. It's our little unspoken pact. I do the same for John Kerry, and Al Gore. (I'd do the same for you if you were a liberal politician who understood the power of the internet but has so far failed to live up to your political promise.)
And so when I saw his name pop up in my inbox today, I assumed I was going to get a bit of good ol' Irish Massachusetts fury about the Scooter Libby pardon, because I know today I'm feeling pretty fucking pissed off about it.
But instead he was writing about something a little less, how do you say, politician-y? Important? Within the realms of sanity?:
Dear STEPHEN,

I'm writing today to ask for your vote -- and this time it's to bring the premiere of "The Simpsons Movie" to Springfield, Massachusetts! The famous TV series is set in a city called Springfield, and celebrated its 400th episode this year.

The creators of "The Simpsons" are releasing a major movie version on July 27th, and they're holding a nationwide vote on the USA Today website to see which of our nation's Springfields will win the honor of hosting the premiere. Voting begins today and runs through July 9th, and the winner will be announced soon after that.

I know the answer -- it's undoubtedly Springfield, MA! We'd love to welcome Marge, Homer, Bart, Lisa, Maggie, Abe and all the residents of TV's Springfield to our great city.

As part of the campaign, each Springfield has prepared its own video. I'm part of our Springfield's video, and I can tell you it's fun and a real home run!

You can see it on the USA Today website, and cast your vote there at the same time:

http://www.thesimpsons.usatoday.com

Our entire community is involved, and it's a wonderful campaign. I hope you'll join us today by voting for our Springfield, and by asking as many of your friends and family as possible to help us too.

http://www.democraticmajority.com/simpsons

As you so well know, every vote counts, and we're in it to win. We'd greatly appreciate your support! With your help, as the great Ralph Wiggum would say, it's "unpossible" for us to lose.

Thanks for your support and happy Fourth of July!