Day 9: Actors On The Loose!
Today was the big SAG Loves WGA event at Universal Studios. We showed up at 10am for picketing duty and headed straight to the Southern-most gate (1? -- Universal has like four thousand gates, which is hell when you have a meeting there and are invariably sent to the wrong gate) where the giant NBC/Universal building is. I had been waiting all week to strike this gate as that building, on the 14th floor, is where I have pilot deals with both USA and Sci-Fi networks in various stages now of limbo. It feels good to strike where you do business. This is a thing most staff writers -- writers currently on shows -- have been able to experience thus far, the bittersweet, weird circumstance of picketing the very place you work. (Pamie strikes about 50 ft away from the parking space with her name on it -- which she currently cannot use as it's on the other side of the picket line.) But as a guy in development, I've been deprived of that immediacy. That tactile connection to my place of protest. And while there is much that can be seen as positive about this strike thus far. The friendships made. The exercise. The general positivity that can come from shaking up your routine. The amazing solidarity we solitary, grumpy writers have gotten to feel lately because we know we're so fucking right it's scary. All the positive spin has done nothing to quell my fury. I'm so goddamn angry I could spit fire. When I arrived on the line this morning and walked across that looooong Gate 1 street, I did a phone interview for something called Web Pro News. And during the interview I found myself just ranting, answering each simple question with extended diatribes on corporate avarice and the insanity of ruining lives to get out of deals
you made yourself!
(Fire those who made the deals you've soured on, not the beneficiaries of those deals. Idiots.) The fact that old-tymey robber barons -- that
Mr. Burns
still lives -- just blows my mind. And in the end, we will have a deal. We will some day be back at work having made some gains in new media blah blah blah, and we will be asked to come in and listen to notes on our scripts. And you know what? Right now I can't imagine being anything but mean and angry and dickish. I mean, I won't. I'm professional and I don't have the juice to throw any weight around whatsoever, but I think they're making a giant mistake banding together a group of already bitter, grouchy people like writers against so clear and visceral and heartless and so totally fucking hate-able an enemy as the AMPTP. I mean, labor strife is always ugly, but it really feels as if the people we're supposed to work
with
, to entrust our inner-most thoughts and our life work to hold us in about as high a regard as the dog shit on the bottom of the shoe their illegal nanny removed from their child's foot on the way back from an afternoon playdate with Reese's kids at Harvard/Westlake. And I can't imagine just BOOM
forgetting
this feeling once we're asked to work together again.
It's silly to ask if this is what they want. Because "they" don't, after all, want anything. Because there is no "they." It's a faceless force. There is no wizard behind the curtain. There is just greed and numbers and history and tradition, all fronted by a bunch of rich white men who read far too much Ayn Rand in college. But right now it feels personal. It feels like raw contempt. Contempt for what we do. Contempt that we would dare suggest we should get paid for our creative work. Contempt for our organizing and for the community rallying together and showing support. Contempt for our intelligence and that we would see through the gauzy little lie that is their claim that the Internet isn't a place to make money from content. How do we go back to work for people who hold us in very naked, and very personal contempt?
(Here's a thought I had. After this thing is settled, how many shows and movies will have villains named "Nick Counter?")
Anyway. After about two hours of striking, everything suddenly changed. SAG arrived. I have no idea how many, but suddenly the long stretch of Lankershim was jammed with actors, famous and not, showing support, being interviewed, and inducing cars to honk. It was chaos. Suddenly, striking turned into star-gazing and everywhere you turned someone had cameras and mics in their faces. There was even a group of professional autograph collectors. You could tell them from their dirty clothes, their packets of celeb headshots and movie stills, their Sharpie-stained fingers, and their meth teeth. And at that point there was no more picketing, there was just a mass of people standing around gawking in the hot sun. We found a shady place to sit, found Laura House and Sian Heder and other friends, and watched until we absolutely OD'd on recognizable faces and had to get out of there immediately. But it was amazing and wonderful for them to come out to support us and lend a visibility to the cause -- a face that the average American recognizes and might care about what they have to say. Because writers: not so in demand for face time on
Extra
.
Just walking around, here is a list of the recognizable actors we saw, in no particular order:
Scott Caan, Victor Garber, Ron Rifkin, Valerie Harper, Edie McClurg, Donal Logue, Megyn Price, Nicole Sullivan, Marg Helgenberger, Cynthia Watros, David Spade, Jim Belushi, Seth Green, Andy Richter, Dana Delany, Kim Delaney, Todd Bridges, John Amos, Jon Cryer, Camryn Manheim, Laura Linney, Ben Stiller, Jeanne Tripplehorn, Elliott Gould, Dana Gould, Anne Dudek, Alyson Hannigan, NPH, Ray Romano, Brad Garrett, David Krumholtz, Robert Patrick, Frances Fisher, Lisa Kudrow, Tim Daly, Kathy Griffin, Julia Louis-Dreyfus, Bill Paxton, Kevin Dunn, Chris Parnell, James Denton, Doug Savant, Brenda Strong, Kevin Nealon, Matthew Modine, T.R. Knight, Sarah Silverman, Jack Black, Mary Kay Place, Matthew Perry, Jason Alexander, and probably scores of others I'm too tired to remember.
There were also much of the casts of shows like
My Boys, The Closer, Dexter, The Big Bang Theory, CSI, Women's Murder Club, Army Wives, Mad Men, It's Always Sunny..., Chuck, Tell Me You Love Me,
and
The Office
(at least Stanley, Oscar, and Meredith). Oddly, though she's been at every other event, no Justine Bateman. I hope she's okay.
Photos and video below...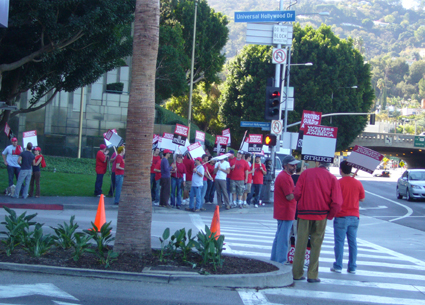 Starting quietly enough.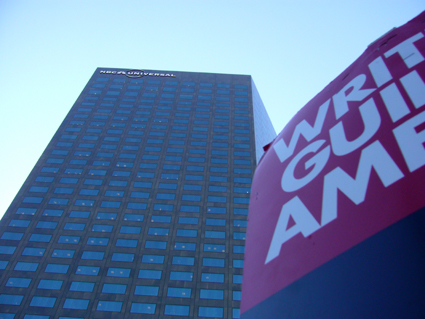 The giant building where good things have happened to me.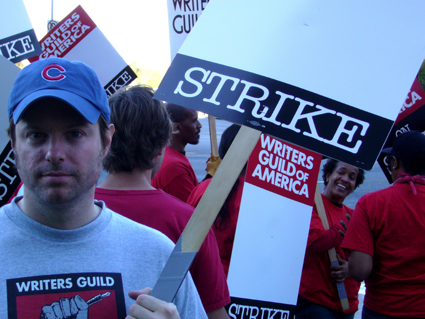 Frank has his strike face on. And the Cubs hat which seems to draw fellow Chicagoian to him like John Goodman to free onion rings.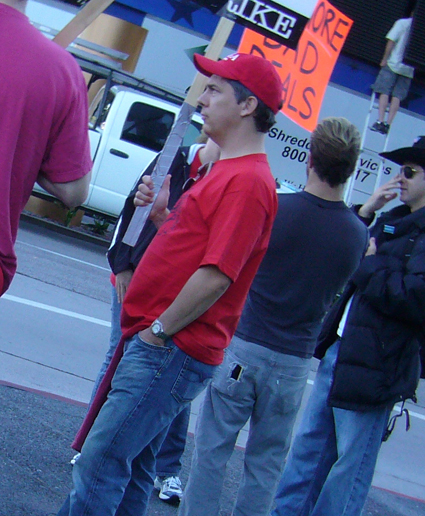 A few actors arrived early. Like Chris Parnell. And Scott Caan (with his back to us)...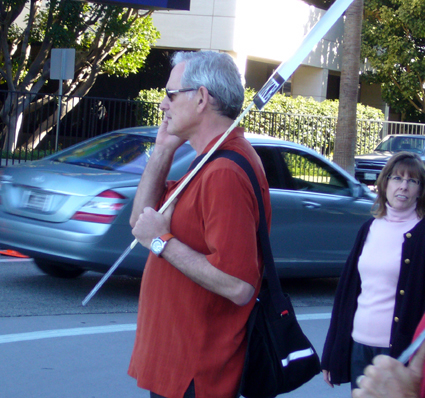 Victor Garber.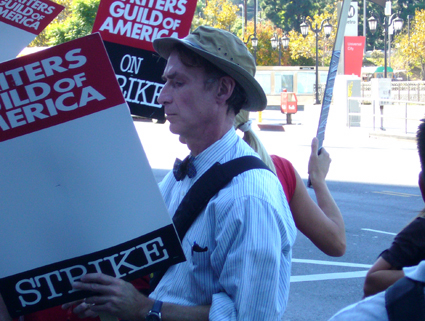 And Bill Nye The muthafuckin' Science Guy! (Who seems to be wearing make-up?)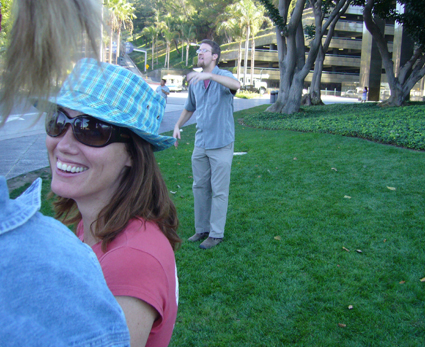 It's not a real party until Crazy Yelling Southern Guy arrives. He tricked us all by not being about Jesus at all. Just about yelling and the collective conscience, or some shit. Then it got really confusing when he name-checked Morgan Freeman during a rant.
Big Love
's Eileen Myers is considering asking him out here, because hey, at least he has strong opinions.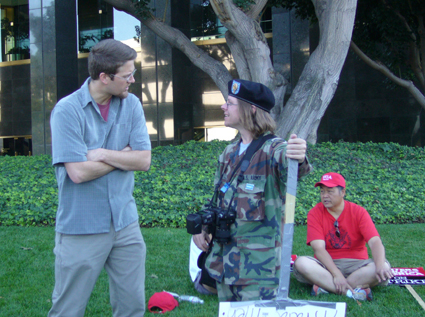 Crazy Yelling Southern Guy couldn't be calmed down by
King Of The Hill
's Kit Boss, but he eventually found a soulmate in Army Guy.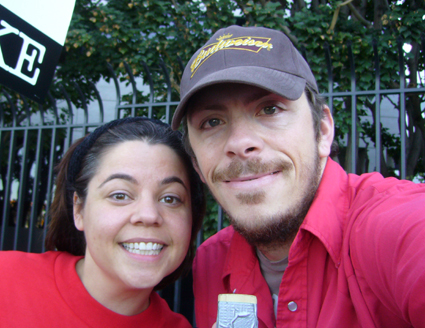 We ran into Laura House, who seems to know everybody.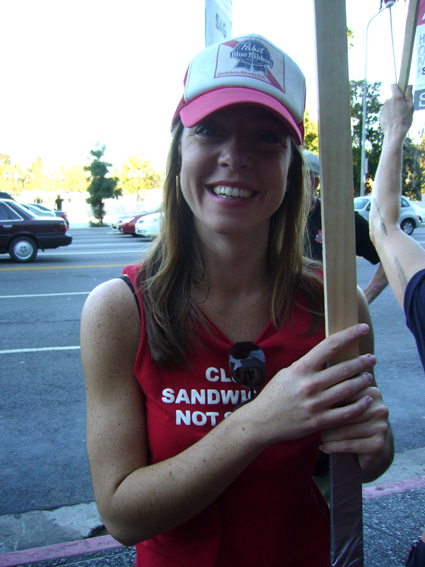 And Sian Heder, who is awesome, and pretty enough to get away with wearing a trucker hat at this dangerously late date.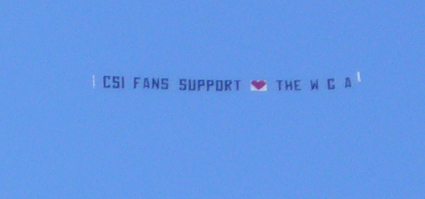 CSI
fans rented a plane.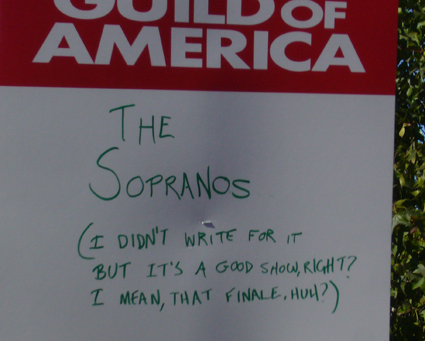 This guy made a funny sign.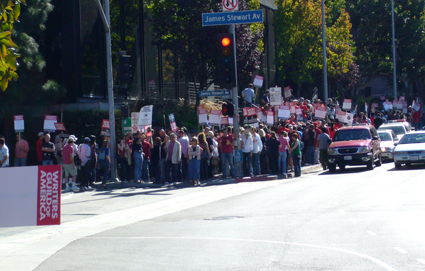 And suddenly it was noon and the actors arrived in giant actor-y droves.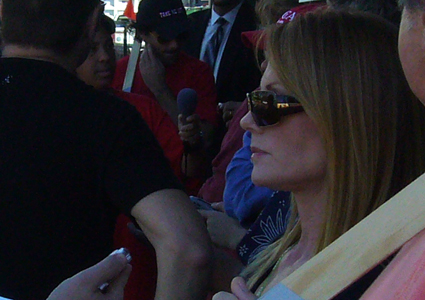 Don't call her "Marge." Whatever you do.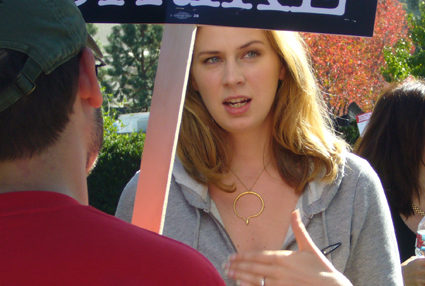 Anne Dudek from
House
talking to Michael Colton from
Best Week Ever
.
Around here I switched to taking video. Here's few minutes of what it was like.
Afterwards, as Frank and I drove to find something healthy to eat -- because a week of pizza, lollipops and donuts can only lead to scurvy and cankles -- we rolled past the insanely-amazing Fionnula Flanagan (of Showtime's
Brotherhood
and thousands of other things). We told her how much we liked her and chatted about the strike and about her show a bit, as I realized with horror that her face was inches away from a massive bird crap on my passenger-side door frame. But she's an old Dublin gal and no shrinking violet so she didn't say a word. Then as we wished her well and started to drive off, she asked if we could drive her to her car, citing her high heels. So I drove Fionnula Flanagan to the 99 Cent Store on Lankershim where she'd left her car. She referred to us both as "handsome men" and left, making our day. A few blocks later I realized she stole my Jurassic 5 CD from the back seat.*
(*That part is not true. But it would have been awesome if it was.)