And Anyway, You Have To Spell Out The 'Twenty' Now, You Jerks!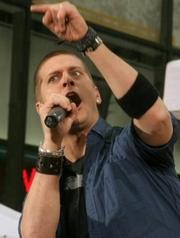 "Hey. HEY! Listen up, Pomona. I will
stop the show
right now if any of you mother-effers calls me 'matchbox twenty' again! I'll do it. I'll walk off this stage right now and I'll leave the Fairplex altogether, and you jerks can go get a candy apple or throw Ping Pong balls at goldfish for all I care, because Rob Thomas is
not
the bitch you want to try to play. I don't need this, crap. I'm an innovator, people. Look at my wristband. Look at it. Ain't no fools wearing their wristbands
on their forearms
! I'm the first guy to do that. That's mine. It's
my
thing. Ask me what time it is. Ask me! 'What time is it, Rob?' Well, I can answer that question... because I got FOUR WATCHES! That's right!-- OW! Who threw that? WHO THREW THIS CAN OF MOUNTAIN DEW!!! That's it. I'm gone. Too bad, you dicks just wasted seventeen-fifty plus two dollars for parking. See ya, bitches!... ...But first, here's 'Smooth' with special guest guitarist, blind phenom Jeff Healey!"