A New Film Pigs Alternate DVD Commentary -- Everybody is Racist!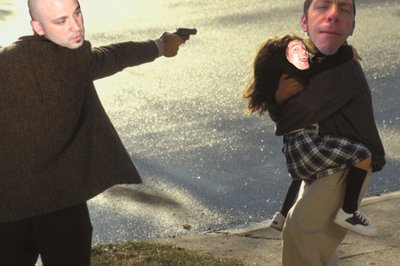 The Film Pigs watch
Crash
.
To call this movie ham-fisted would be an insult to the depth and
subtlety you get from ham-fistedness. From its opening scene,
Crash
blunders through an endless series of tired racial stereotypes and
preachy cliches like a fat kid in an oversized pair of moon boots,
ultimately concluding that everyone on earth is not only racist, but
also an incompetent motorist. Best Picture 2005? What the fuck,
America? And would somebody please get Thandie Newton a God-damn
sandwich?
Download our commentary from
Film Pigs
dot com and give yourself a giant migraine trying to figure out how in hell the same 8 people in Los Angeles keep running their cars into each other.
And remember the Best Picture of 2005's timeless message: Everyone is racist and anyone who tries to change for the better will fail, so there's no point to anything.
Also, you can download (and subscribe to!) our podcasts at iTunes, under "Comedy." Or if you are a savage and don't have an iPod, you can just listen on your computer. (And then get an iPod because, c'mon.)